About Bangladesh
Geography
Bangladesh, on the northern coast of the Bay of Bengal, is surrounded by India, with a small common border with Myanmar in the southeast.
Bangladesh's 147,570 sq km ( roughly the size of England and Wales) are situated on a fertile alluvial plain formed by large rivers, the Padma and the Jamuna. Its topography is flat with no great mountains or deserts, and its rivers are vast. Bangladesh is bordered by India to the north-east and west, Myanmar to the south-east, and the Bay of Bengal to the south.
Government
Parliamentary democracy.
History
The origin of Bangladesh dates back to the Pundra civilization of the 3rd century BC. However, the modern history of the region can be traced back to 1199 when Bengal fell to Muslim forces from western India and was subjugated to the sultanate of Delhi. The country as we know it today came into being in 1971 after East Pakistan's glorious and bloody nine-months battle for independence under the leadership of Bangabandhu Sheikh Mujibur Rahman.
Economy
Bangladesh economy is now moving on a path of rapid and sustained growth. In fact the structural changes under the constraints imposed by the process of global integration, the management is channeling productive resources towards the achievement of a higher rate and quality of growth. Despite global financial crises, real GDP accelerated to 5.8 percent in 2009-10 from 5.7 percent in 2008-09, confirming the achievement of the path of rapid growth. Bangladesh's economy gradually has become broader based with continuous higher food production.
Industry has a decisive influence on the pace of economic growth due to its increasing of share to GDP generation. The share of industrial sector to GDP increased steadily and reached to 30 percent in 2009-10 from 25 percent in 1999-2000 indicating the increase of share by 5 percentage point. On the other hand during this period, agricultural sector share to GDP declined by 6 percentage points, 26 percent to 20 percent and that of service sector increased by 4 percentage point, 46 percent to 50 percent.
Facts & Figures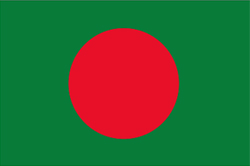 President : Abdul Hamid (2013)
Prime Minister : Sheikh Hasina (2009)
Land area : 51,703 sq mi (133,911 sq km); total area: 55,598 sq mi (144,000 sq km)
Population (2012 est.) : 161,083,804 (growth rate: 1.58%); birth rate: 22.53/1000; infant mortality rate : 48.99/1000; life expectancy: 70.06; density per sq km: 1,146
Capital and largest city (2009 est.) :
Dhaka, 14,251,000
Other large cities : Chittagong, 4,816,000; Khulna, 1,636,000; Rajshahi 853,000
Monetary unit : Taka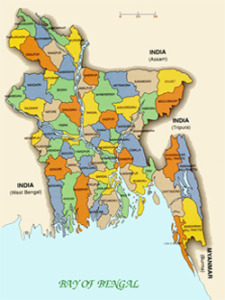 Industrial production growth has averaged more than 8.7% over the last 5 years, 2005-2010. The export sector has been the engine of industrial growth, with ready-made garments leading the way having grown at an average of 20% over the last 5 years. Primary products constitute only 4 to 5 percent of the country's exports; More than 95 percent of exports are manufactured/processed products, ready-made garments, woven garments and knit wear in particular.
The growth that had occurred in the service sector of the economy was fueled by growing importance of education, health and social activities. Income growth had been dominated by wages and salaries in incorporated firms. The life span of the population continued to increase with more urbanization and more apt to live in a modern life. The later trend is particularly helping to reduce poverty level.
In the last five years, 2005-10, the economy has apparently become noticeably more stable. Living standard, as measured by capita GDP, had improved at a higher rate. Internal and external balances were in good shape. Even though the employment growth was positive, unemployment rate remained at a fairly reasonable level. In the same time, inflation had averaged to 4.7 percent over the whole period, 2005-10. Moreover, the economic stability and business prospects that prevailed in this particular period have generated a lot of confidence that may be a cause for good economic development in the near future.
Climate
The climate in Bangladesh is sub-tropical, with temperatures ranging from a daytime low of 18`c in the cold season to a maximum of 40`c in the summer. Annual rainfall ranges from 200 to 400 cm. The country has four main seasons, Winter (Dec-Feb), Summer (Mar-May), (Jun-Sep) and Autumn (Oct-Nov).
Demography
The population of Bangladesh stands at around 149 million [according to Bangladesh Bureau of Statistics, January 2011], making it the 7th most populous nation in the world and one of the most densely populated, with more than 800 people per square kilometer. Bangladesh has a young population, with 60% of the population under the age of 25.
Bangla is the official language. English is the second language and is used extensively in commerce, media and education. Nearly 88% of Bangladeshis are Muslims, while Hindus make up 11% of the population.
Social Development
Bangladesh has achieved substantial progress in mass literacy, public health, reduction of population growth and self employment support for rural poor. Primary education is compulsory and female education is free through the first eight years. The strong commitment to primary education and to gender equity means that three out of four girls now enter primary education.
In the area of health, over 80% of the country's children are immunized against the six `killer` diseases. Infant mortality has decreased significantly. There has been a sharp decline in the fertility rate.
The increased participation of women in poverty alleviation programs as well as in Bangladesh's ready-made garments sector, which provides jobs for more than 3 million women, has helped create an awareness of women's issues at all levels.
An unparalleled concentration of innovative and committed non-governmental organizations has brought about a micro-credit revolution and guided countless indigent women and landless households into income generating activities. The safety net programs initiated by the government in improving the condition of the poorest to a level of survival are proving effective.